Apache rimane Apache: un film documentario esclusivo sul rap Apache 207 arriva in streaming su Amazon Prime Video.
Con 10 hit al numero uno e oltre 2 miliardi di visualizzazioni, la superstar del rap Apache 207 resta un enigma.
Ora ha deciso di rompere il silenzio e di aprire alle telecamere. Questo coinvolgente documentario narra la sua vita dai prefabbricati alle ville di lusso, dalla solitudine agli stadi gremiti, e il rapporto con i familiari, gli amici più cari e le icone del rap Loredana, BAUSA e XATAR.
APACHE RIMANE APACHE è disponibile in streaming su Amazon Prime Video
Il film documentario Apache rimane Apache in streaming su Amazon Prime Video a partire dal 23 settembre 2022. Il docufilm ha durata di 1h e 28 minuti.
Il trailer ufficiale di Apache rimane lo stesso è qui! "Apache Stays the Same" fornisce la prima visione della vita di Volkan Yaman alias Apache 207 e racconta una storia esclusiva sull'ascesa vertiginosa dell'artista rap.
Il documentario Amazon Original di 90 minuti "Apache rimane lo stesso" parla di Apache 207 alias. Volkan Yaman.
Apache è uno dei rapper più celebrati e ascoltati in streaming in Germania. Ma che dire della persona dietro gli occhiali da sole? Per la prima volta, il rapper rompe il suo silenzio e offre spunti esclusivi sulla sua vita.
Apache Stays the Same sarà presentato in anteprima il 23 settembre in esclusiva su Prime Video in tutto il mondo in più di 240 paesi e territori. Amazon Original Documentary è stato prodotto da W&B Television per conto di Amazon Studios.
Il docufilm è solo disponibile in tedesco con i sottotitoli in italiano.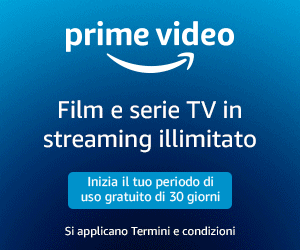 Netflix News Serie TV Film Amine
Apple Android Tecnologia Prime Video Offerte Disney+
Seguici su Facebook Twitter Pinterest
Seguici su Telegram: Netflix, Offerte Amazon Prime, Prime Video