Apple oggi ha annunciato la disponibilità di Apple Podcasts Subscriptions, il marketplace globale per gli abbonamenti premium ai podcast.
A partire da oggi, gli utenti in oltre 170 nazioni e paesi possono acquistare abbonamenti
a singoli programmi e a gruppi di programmi attraverso i canali.
In questo modo potranno facilmente sostenere i loro creatori preferiti, scoprire nuovi contenuti e approfittare di ulteriori vantaggi, come l'ascolto senza pubblicità e le anteprime sui nuovi programmi, direttamente su Apple Podcast.
Sarà possibile scoprire migliaia di abbonamenti e canali con nuovi programmi in una
varietà di format e generi, tra cui news, comedy, sport e true crime, per offrire agli
ascoltatori esperienze premium che li aiutano a rimanere informati, divertirsi,
restare in contatto e trovare nuove ispirazioni.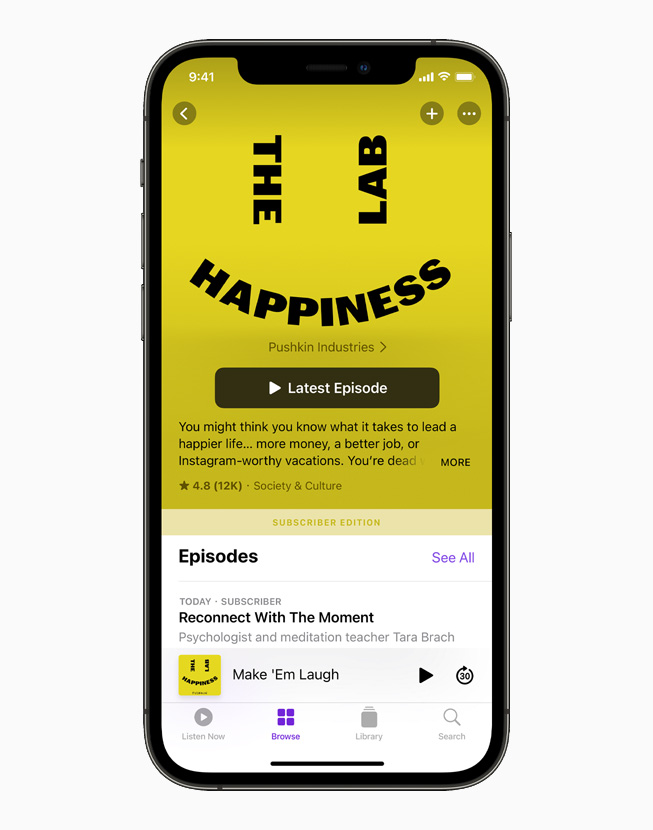 Il catalogo include abbonamenti ai programmi di voci indipendenti come "Birthful" con Adriana Lozada, "Pantsuit Politics" con Beth Silvers e Sarah Stewart Holland, "Snap Judgment" con Glynn Washington, e "You Had Me At Black" con Martina Abrams Ilunga;
A programmi offerti da grandi firme dei podcast come Lemonada Media, Luminary,
Realm e Wondery, e a programmi di brand del settore media e dello spettacolo come CNN,
NPR, The Washington Post e Sony Music Entertainment.
Con Apple Podcasts Subscriptions, l'utente può ascoltare le storie inedite proposte da "The Midnight Miracle" di Luminary, con Talib Kweli, Yasiin Bey e Dave Chappelle, e da "Revisionist History" di Pushkin Industries, con Malcolm Gladwell;
i nuovi capitoli del thriller apocalittico "Blackout" di QCODE, con Rami Malek e Aja Naomi King, e "Orphan Black" di Realm, con Tatiana Maslany; l'insuperabile intesa e le acute analisi del podcast "The Handoff" della CNN; gli approfondimenti di "Playbook: Deep Dive" di Politico, e tanto altro.
"Chi ama i podcast non si stanca mai di ascoltarli e vuole avere un modo semplice per
sostenere gli straordinari creatori che li rendono possibili" ha detto Oliver Schusser,
Vice President di Apple Music e Beats di Apple.
"Ora gli ascoltatori potranno avere nuovi contenuti e ulteriori vantaggi per migliaia
di podcast emergenti e già affermati, insieme a milioni di programmi gratuiti,
con nuovi arrivi ogni settimana.
Apple Podcasts Subscriptions aiuterà i creatori a far crescere il proprio business
e continuare a rendere il podcasting un'importante fonte di informazione, intrattenimento,
connessione e ispirazione per centinaia di milioni di acoltatori in tutto il mondo."
Scoprire abbonamenti e canali
Quando gli ascoltatori acquistano un abbonamento ad un programma, seguono automaticamente quel programma, e la relativa pagina si aggiorna con il badge "Versione per abbonati" in modo che sappiano di avere accesso all'esperienza premium.
Gli ascoltatori possono scoprire canali per i loro podcast preferiti dalle pagine dei singoli programmi e con la funzione di ricerca, possono esplorare i suggerimenti delle tab "Ascolta ora" e Scopri, e condividere canali usando Messaggi, Mail e altre app.
Man mano che ci si abbona ai canali, la tab "Ascolta ora" si espande con nuove righe che offrono facile accesso a tutti i contenuti inclusi nel canale e nell'abbonamento.
Gli ascoltatori che si abbonano a due o più canali vedranno una sezione "I miei canali" nella tab "Ascolta ora", da dove potrà sfogliare e seguire tutti i programmi offerti.
Ancora più abbonamenti e canali
Fra i principali abbonamenti e canali internazionali disponibili da oggi ci sono ABC, LiSTNR e SBS dall'Australia; Abrace Podcasts dal Brasile; CANADALAND e Frequency Podcast Network dal Canada; GoLittle dalla Danimarca; Europe 1, Louie Media e Radio France dalla Francia;
Der Spiegel, Podimo e ZEIT ONLINE dalla Germania; Il Sole 24 Ore e Storielibere.fm dall'Italia;
J-WAVE dal Giappone; Brainrich dalla Corea; libo/libo dalla Russia; Finyal Media dagli Emirati Arabi Uniti; e Broccoli Productions, The Bugle, Content Is Queen, The Guardian, Immediate Media e Somethin' Else dal Regno Unito.
Apple Android Tecnologia Netflix Prime Video Offerte
Seguici su Telegram Canale Netflix Offerte Amazon Prime Video
seguici anche su Facebook Instagram Twitter Pinterest