As We See It ("Te lo racconto io") è la nuova serie che arriva con la prima stagione in streaming su Amazon Prime Video in cui seguiamo le vicende di tre coinquilini affetti da autismo.
Dal premiato produttore Jason Katims (Parenthood, Friday Night Lights) arriva la nuova serie AS WE SEE IT-Te lo racconto io.
Non si tratta della prima serie di formazione sull'autismo, ma il nuovo spettacolo del creatore di Friday Night Lights ci apre gli occhi su questo aspetto.
Trovare l'amore, farsi degli amici, trovarsi un lavoro, diventare adulti. Segui le vicende di tre coinquilini affetti da autismo mentre affrontano i loro vent'anni tra gioie, lacrime e risate.
La trama della serie As We See It – Te lo racconto io
Questo nuovo dramma segue tre coinquilini nello spettro, tutti interpretati da attori che sono loro stessi nello spettro dell'autismo.
Le loro famiglie pagano a Mandy (Sosie Bacon, vista l'ultima volta come la madre del nipote di Kate Winslet a See of Easttown) uno stipendio per vivere come loro operatrice di sostegno.
Harrison lascia a malapena l'appartamento, mentre Jack ha un lavoro come programmatore e Violet lavora in un fast-food (è una vera catena e riceve molte menzioni).
Tutti e tre vivono con Mandy per lavorare verso una maggiore indipendenza e tutti hanno obiettivi che dovrebbero raggiungere ogni settimana. Gli obiettivi sono diversi: che si tratti di fare nuove amicizie o chiedere come si sente un parente di fronte a una situazione emotiva difficile.
La serie si basa su una serie israeliana, On the Spectrum, ed è stata sviluppata, prodotta e in parte scritta dallo scrittore del dramma sul football americano Friday Night Lights, Jason Katims, il cui figlio è autistico, e la passione dietro il progetto è evidente.
I tre inizieranno a fare i primi passi. Harrison inizia a fare amicizia con un ragazzo che vive al piano di sopra. Jack è ansioso e schietto con le sue valutazioni di determinate situazioni. E Violet vuole un fidanzato, come dice a Van, nei minimi dettagli, ma il suo approccio letterale alla ricerca dell'amore la porta a un problema dopo l'altro.
La serie As We See It arriva disponibile in streaming su Amazon Prime Video
La prima stagione della serie di As we see it arriva disponibile in streaming su Prime Video a partire dal 21 gennaio 2022. La prima stagione si compone di 8 episodi da 30 minuti circa.
All'inizio della serie incontriamo subito Harrison, un uomo sui 20 anni, che viene accuratamente trascinato fuori dal suo appartamento di Los Angeles da Mandy.
Lo chiama al telefono, in modo che possa parlargli durante la sua passeggiata intorno all'isolato, ma anche se Mandy lo rassicura, appare un cane, il traffico, e il caso che ne consegue fa fuggire Harrison a casa. La serie riesce ad immergere lo spettatore nell'esperienza che prova Harrison.
La serie ci ricorda in parte una serie Netflix che si è conclusa l'anno scorso: Atypical. Ma a parte questo la serie ha ottenuto ottime recensioni e un punteggio davvero elevato. Da vedere!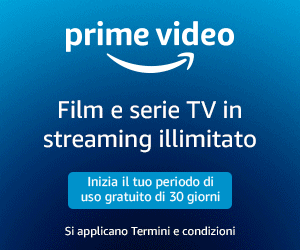 Netflix        News        Serie TV        Film        Amine        
Apple        Android        Tecnologia        Prime Video        Offerte        Disney+
Seguici su Facebook      Twitter      Pinterest
Seguici su Telegram: Netflix, Offerte Amazon Prime, Prime Video