Backstage: Dietro le quinte è in streaming su Amazon Prime Video ed è un frizzante film dance con protagonisti nove giovani performer.
111 ragazzi dai 16 ai 25 anni si presentano alle audizioni di un nuovo spettacolo che debutterà al Teatro Sistina di Roma. Hanno talento, determinazione e hanno tutti lo stesso sogno: diventare artisti di successo.
Vengono scelti in nove ma l'emozione dura poco perché i ruoli disponibili sono soltanto quattro…
Il film è il quarto lungometraggio di Cosimo Alemà, porta un genere poco esplorato nel cinema italiano, quello del dance movie. Precedentemente il regista aveva proposto un horror "At the End of the Day – Un giorno senza fine", prima ancora il western-noir La santa e Zeta, un film ambientato nel mondo del rap.
Il regista 52enne, per vent'anni anche autore di centinaia di videoclip per i più importanti musicisti italiani e stranieri, e lo sceneggiatore Roberto Proia, creatore della fortunata trilogia inaugurata dal film Sul più bello, prendono il genere e lo fanno loro.
La trama del film Backstage: Dietro le quinte
Nove giovani aspiranti cantanti ballerini hanno sette giorni per convincere un famoso coreografo a farsi scegliere per un importante spettacolo in cartellone al Teatro Sistina. Il teatro è il tempio del musical a Roma.
Si tratta di una sfida appassionata scandita da intense sessioni di studio, prove a sorpresa, pressioni psicologiche e colpi di scena.
Vedremo come a farla da protagonista è l'amore per l'arte, l'urgenza di esprimere se stessi e la fame, di voler riuscire in qualcosa di grande.
Backstage: Dietro le quinte è in streaming su Amazon Prime Video
Il film Backstage: Dietro le quinte arriva in streaming su Amazon Prime Video a partire dal 13 ottobre 2022. Il film ha durata 1h e 45 minuti ed è disponibile in italiano.
Il film riesce a mischiare efficacemente modernità e vintage. Tutto questo grazie alla scelta di musica italiana che metto al centro l'amicizia di questi nove ragazzi e ragazze che hanno un sogno comune: fare una performance perfetta per riuscire ad avere successo.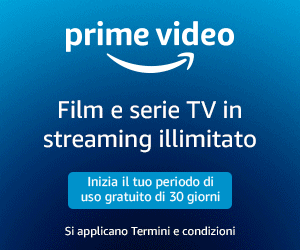 Netflix        News        Serie TV        Film        Amine        
Apple        Android        Tecnologia        Prime Video        Offerte        Disney+
Seguici su Facebook      Twitter      Pinterest
Seguici su Telegram: Netflix, Offerte Amazon Prime, Prime Video