Creators the past è un film fantascientifico italiano del 2020 diretto da Piergiuseppe Zaia in streaming su Amazon Prime Video.
L'universo è governato da otto dei, i Creators, ognuno dei quali è in possesso di una Lens, una sfera che contiene la chiave dell'essenza del sistema da lui (o lei) governato.
Ci sono però alcuni pianeti la cui vita sta andando alla deriva ed uno di essi è la Terra. Il Concilio Galattico si riunisce in vista di un allineamento galattico con la necessità di ricostituire l'ordine complessivo.
La trama del film Creators the past
Giunge il termine dell'anno 2012 e l'universo sta per subire uno straordinario allineamento planetario: un'eclissi totale sarà presto visibile dal pianeta Terra portando con essa profondi cambiamenti vibrazionali.
Gli otto membri del consiglio galattico, capeggiati da Lord Ogmha, si riuniscono per discutere gli effetti dell'imminente allineamento: assieme regolano i conflitti e la stabilità dell'universo, ognuno di essi è infatti un "creatore" e governa sul proprio pianeta.
In seguito ad un incidente, gli Dei alieni perdono il controllo di un oggetto dal valore inestimabile: in esso sono conservati il DNA, la registrazione dell'intera storia e i ricordi dell'umanità.
Se finisse nelle mani sbagliate, potrebbe rivelare agli uomini la scioccante verità che si cela dietro alle loro vere origini: per far sì che non accada, affidano ad una ragazza il compito di ritrovarlo.
Il film Creators the past (2020) è disponibile in streaming su Amazon Prime Video
Creators the past è un film che arriva disponibile in streaming su Prime Video a partire dal mese di febbraio. Il film ha durata pari a 1h e 39 minuti.
Nel cast troviamo Eleonora Fani, Jennifer Mischiati, Bruce Payne e Per Fredrik Åsly nei ruoli principali. Inoltre ci sono delle apparizioni di Gérard Depardieu e William Shatner.
Zaia ha scritto la sceneggiatura insieme a Eleonora Fani.
La storia parla di come i destini dell'umanità vengono manipolati da una razza di potenti extraterrestri noti come i Creatori. Il film è stato annunciato come la prima parte di una trilogia pianificata, con i prossimi due episodi Creators: The Present e Creators: The Future.
Nonostante il film abbia ricevuto dei premi anche come miglior film, in generale la ricezione del pubblico è stata un po' fredda. Le recensioni sono miste.
Le ultime notizie disponibili sostengono che anche se il debutto del primo film è stato inficiato dalla pandemia, sono in corso le attività di sviluppo del secondo film.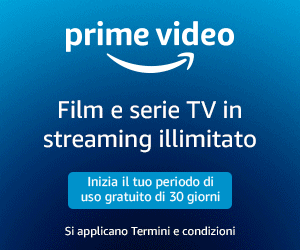 Netflix        News        Serie TV        Film        Amine        
Apple        Android        Tecnologia        Prime Video        Offerte        Disney+
Seguici su Facebook      Twitter      Pinterest
Seguici su Telegram: Netflix, Offerte Amazon Prime, Prime Video