Dalla condanna alla grazia: La sedicenne Cyntoia Brown è condannata all'ergastolo. La sua vita passata, considerazioni fisiologiche e la legge gettano però dubbi sulla sua colpevolezza.
Nel 2004 la sedicenne Cyntoia Denise Brown viene arrestata a Nashville, nel Tennessee, per l'omicidio di un uomo di 43 anni che l'aveva abbordata per avere un rapporto sessuale.
Dalla condanna alla grazia: la storia di Cyntoia Brown | Official Trailer | Netflix
Processata come un'adulta e condannata all'ergastolo, il suo destino è ormai segnato. Il documentario mostra la complessità della storia di una bambina che è il prodotto di tre generazioni di violenza contro le donne nella sua famiglia biologica.
Nel 2019, dopo quasi dieci anni di ricorsi, il governatore Bill Haslam ha accettato la domanda di grazia di Cyntoia.
Tutto questo è avvenuto in seguito a una lenta mutazione all'interno dello stato in favore di una modifica alle leggi sulle condanne ai minori.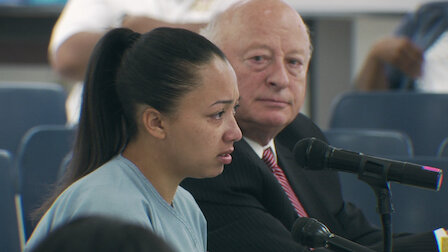 Sulla decisione hanno inoltre inciso le dimostrazioni di maturità, istruzione e buona condotta della detenuta.
Daniel H. Birman si è occupato della regia, ma anche della produzione assieme a Megan E. Chao, responsabile del montaggio.
Altri dettagli
Generi
Film documentari,Documentari true crime,Doc. sociali e culturali
Caratteristiche
Investigativo
Netflix News Serie TV Film Amine
Apple Android Tecnologia Prime Video Offerte
Seguici su Facebook Twitter Pinterest
Seguici su Telegram: Netflix, Offerte Amazon Prime, Prime Video
Prossimamente Too Hot to Handle
Single stupendi si conoscono e socializzano sulle spiagge di una località da sogno. C'è però un inghippo: per vincere 100.000 dollari dovranno rinunciare al sesso.
HALSTON
Ewan McGregor è il protagonista di questa miniserie che racconta la rapida ascesa e caduta del primo stilista americano delle celebrità. Creata da Ryan Murphy.
Unbreakable Kimmy Schmidt: Kimmy vs il Reverendo
Kimmy's a famous author and she's about to marry a prince! But first she has to foil the Reverend's evil plot. It's your move: What should Kimmy do next?