Il film horror indipendente Bingo Hell del 2021 è disponibile in streaming su Amazon Prime Video. Il film è diretto da Gigi Saul Guerrero da una sceneggiatura che ha scritto insieme a Shane McKenzie e Perry Blackshear.
Il film è il quinto capitolo della antologica di serie di film "Welcome to the Blumhouse". Nel cast troviamo come interpreti Adriana Barraza, L. Scott Caldwell e Joshua Caleb Johnson.
In questo film indipendente, Guerrero si appoggia ai suoi limiti di budget amplificando l'irrealtà del suo film. Bingo Hell è una miscela a volte goffa ma sempre audace di satira sociale e stile delirante.
Il suo ambiente, un quartiere in rapida gentrificazione chiamato Oak Springs, è ovviamente un backlot. Nonostante lo scarso set, il cast e gli effetti meritano.
La trama del film Bingo Hell
La leggendaria attrice televisiva messicana Adriana Barraza, che ha ottenuto una nomination all'Oscar per il suo ruolo in Babel, interpreta Lupita, una matriarca del quartiere che sta conducendo una guerra solitaria contro la nuova sala da bingo che compare misteriosamente durante la notte in uno dei tanti negozi abbandonati di Oak Springs.
Lì, un sinistro tipo di predicatore che si fa chiamare Mr. Big (interpretato da Richard Brake, alias The Night King su Game Of Thrones) promette facili vittorie e grandi guadagni, non diversamente dagli assegni che i residenti di Oak Springs hanno accettato dagli sviluppatori affamati di la loro terra.
Ma prendere i soldi di Mr. Big ha le sue conseguenze…
Il film horror Bingo Hell è disponibile in streaming su Amazon Prime Video
Bingo Hell è un film del 2021 che arriva disponibile in streaming in italiano su Amazon Prime Video a partire dal 1 ottobre 2021.
Lupita è una protagonista horror non convenzionale che è più complessa di quanto ci si potrebbe aspettare, visti i grandi tratti del progetto in generale. Molti altri personaggi hanno una motivazione meno pura per la loro crociata: è solo sconvolta dal fatto che la sua influenza a Oak Springs stia diminuendo?
Bingo Hell è un horror colorato e a volte squilibrato, realizzato in uno stile che evoca due maestri della commedia horror intensa Joe Dante e Stuart Gordon.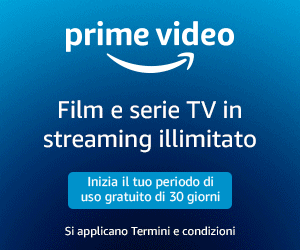 Netflix        News        Serie TV        Film        Amine        
Apple        Android        Tecnologia        Prime Video        Offerte        Disney+
Seguici su Facebook      Twitter      Pinterest
Seguici su Telegram: Netflix, Offerte Amazon Prime, Prime Video