Il film horror indipendente The Manor è disponibile in streaming su Amazon Prime Video e racconta di una donna anziana che si convince che dei mostri uccidano i residenti di una casa di riposo.
Dopo essere stata colpita da un lieve ictus, Judith Albright si trasferisce malvolentieri in una rinomata casa di riposo. Qui inizia a notare cose un po' strane e si convince che una forza soprannaturale uccida i residenti.
Il film è interpretato da Barbara Hershey, Bruce Davison, Stacey Travis, Ciera Payton, Jill Larson e Mark Steger. Jason Blum è il produttore con la Blumhouse Television.
La trama del film The Manor
The Manor è un film che dà la priorità all'illuminazione. Barbara Hershey interpreta Judith, un'ex ballerina professionista che si è volontariamente registrata in una casa di riposo per anziani dopo aver subito un ictus alla sua festa per il settantesimo compleanno.
Qui al "manor", inizia a mettere fuori posto le cose. Dimentica dove si trova e, alla fine, vede un mostro che succhia la vita ai suoi compagni residenti mentre dormono. Si convince che ci sia un mostro, ma nessuno le crede.
I medici che l'assistono e che assillano la sua famiglia le diagnosticano così la demenza per giustificare i suoi racconti.
Il film The Manor è disponibile in streaming su Amazon Prime Video
The Manor è un film horror del 2021 di 1h e 21 minuti che arriva disponibile in streaming in italiano su Amazon Prime Video a partire dall'8 ottobre 2021.
L'horror basato su protagonisti più anziani è un segmento del cinema non molto esplorato. Una degli aspetti più terrificanti dell'invecchiare è il modo in cui devi lottare con il tuo declino e il rifiuto di tutti gli altri della tua utilità.
The Manor prova ma non riesce completamente ad immergerci nello stato mentale paranoico e confuso di Judith. In parte troppo viene lasciato al racconto e poco viene mostrato (probabilmente anche per i vincoli di budget di questo film indipendente).
La regista Axelle Carolyn mostra le sue doti tecniche per una produzione per il grande schermo. Sarebbe interessante vederla alla prova con un budget più adeguato.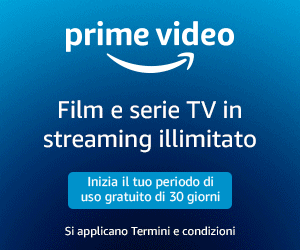 Netflix        News        Serie TV        Film        Amine        
Apple        Android        Tecnologia        Prime Video        Offerte        Disney+
Seguici su Facebook      Twitter      Pinterest
Seguici su Telegram: Netflix, Offerte Amazon Prime, Prime Video