Annette (2021) dopo aver aperto il Festival di Cannes arriva disponibile in streaming su Amazon Prime Video. Si tratta di un film musical diretto da Leos Carax (al suo debutto in lingua inglese) e con una sceneggiatura di Ron Mael e Russell Mael di Sparks e Carax.
La storia è originale, come la musica e le canzoni della band. La trama segue un cabarettista ( Adam Driver ) e sua moglie cantante d'opera ( Marion Cotillard ) e come le loro vite sono cambiate quando hanno il loro primo figlio.
Nel cast anche Simon Helberg e Devyn McDowell. Il film ha ricevuto recensioni positive dalla critica.
La trama del film Annette (2021)
Los Angeles, oggi. Henry (Adam Driver) è un cabarettista con un feroce senso dell'umorismo che si innamora di Ann (Marion Cotillard), una cantante d'opera di fama mondiale.
Driver interpreta Henry McHenry, un comico bilioso a cui piace indossare vestaglia e pantofole per il suo misantropo (e terribile) spettacolo di cabaret, The Ape of God.
Cotillard interpreta la sua ragazza, Ann, una diva dell'opera che è considerata dal mondo troppo buona per lui: un servizio su "Showbizz News" è intitolato "Beauty and The Bastard".
Tuttavia, Henry e Ann si sposano e hanno una bambina, Annette. La nascita della loro prima figlia, Annette, una misteriosa bambina dal destino eccezionale, sconvolgerà le loro vite.
Un film del regista visionario Leos Carax (Holy Motors), con storia e musica di Ron e Russel Mael di The Sparks, questo musical originale è un viaggio di passione, amore e fama.
Il film Annette è disponibile in streaming su Amazon Prime Video
Annette è un film del 2021 disponibile in streaming su Amazon Prime Video, ora solo a pagamento.
Il film è un'opera rock surreale e d'avanguardia diretta da Leos Carax, il creatore di The Lovers on The Bridge e dei favolosamente pazzi Holy Motors. È scritto, con l'aiuto di Carax, da Ron e Russell Mael, alias il duo pop veterano Sparks (il soggetto del nuovo documentario di Edgar Wright, The Sparks Brothers).
I Maels possono essere visti qua e là in Annette, ma la loro apparizione principale sullo schermo è nella scena di apertura edificante, che vede la band che suona una canzone, So May We Begin, in uno studio di registrazione.
Dopo la prima strofa, i Mael escono in strada, ancora cantando, inseguiti dal loro quartetto di coristi. Mentre girano per Los Angeles vengono raggiunti da Adam Driver e Marion Cotillard, tra gli altri, e la telecamera rimane appena davanti a loro (un po' come in The Verve' s Bittersweet Symphony) in un'unica ripresa ininterrotta.
Annette è un film che ci ricorda un po' La La Land, anche se vi avvicina più al film A Star Is Born. Senz'altro un nuovo successo da vedere!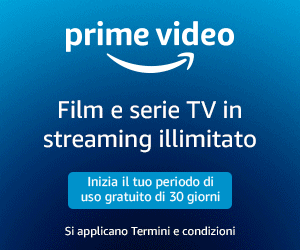 Netflix        News        Serie TV        Film        Amine        
Apple        Android        Tecnologia        Prime Video        Offerte        Disney+
Seguici su Facebook      Twitter      Pinterest
Seguici su Telegram: Netflix, Offerte Amazon Prime, Prime Video