Interstellar è il film fantascientifico del 2014 ed è ora in streaming su Amazon Prime Video.
Interstellar è un film epico di fantascienza del 2014 co-scritto, diretto e prodotto da Christopher Nolan.
Nel cast ci sono anche Matthew McConaughey , Anne Hathaway , Jessica Chastain , Bill Irwin , Ellen Burstyn , Matt Damon e Michael Caine.
La storia si ambienta in un futuro distopico in cui l'umanità è coinvolta in una catastrofica piaga e carestia. Il film segue un gruppo di astronauti che viaggiano attraverso un wormhole (buco nero) vicino a Saturno alla ricerca di una nuova casa per l'umanità.
Il film Interstellar è ora disponibile in streaming su Amazon Prime Video
Interstellar è un film di fantascienza del 2014 della durata di 2h e 42 minuti disponibile in streaming su Amazon Prime Video a partire dal 16 agosto 2023.
Guarda il trailer del film Interstellar in streaming ita su Amazon Prime Video
I fratelli Christopher e Jonathan Nolan hanno scritto la sceneggiatura, che ha avuto origine da una sceneggiatura sviluppata da Jonathan nel 2007 e originariamente doveva essere diretta da Steven Spielberg.
Kip Thorne , fisico teorico del Caltech e premio Nobel per la fisica nel 2017 è stato un produttore esecutivo e tra l'altro ha agito come consulente scientifico e ha scritto un libro correlato, The Science of Interstellar.
La trama del film Interstellar
Nel 2067, mentre l'umanità rischia l'estinzione a causa di una carestia globale causata dall'ecocidio , da allora ha abbandonato le attività scientifiche come l'esplorazione spaziale.
Di conseguenza, l'ex pilota della NASA Joseph Cooper è ora costretto a lavorare come agricoltore con il figlio Tom, la figlia Murph e il suocero Donald.
Cooper osserva uno schema formato da un'apparente anomalia gravitazionale nella camera da letto di Murph. Lo decodifica in coordinate GPS e arriva in una struttura segreta della NASA guidata dal professor Brand.
Brand spiega che la NASA sta cercando di trovare un pianeta extrasolare in grado di sostenere la vita e sta lavorando per risolvere un'equazione di gravità per fornire un modo per trasportare un gran numero di persone fuori dalla Terra morente ("Piano A").
Arruola così Cooper per pilotare un veicolo spaziale esplorativo chiamato Endurance , contenente le provviste e gli embrioniper una nuova colonia potenzialmente senza la popolazione della Terra ("Piano B"). Partirà con un equipaggio di tre scienziati: Romilly, Doyle e la figlia di Brand, Amelia, accompagnati dagli assistenti robot TARS e CASE.
Con poche risorse per organizzare altre spedizioni, questa è l'ultima possibilità per l'umanità di viaggiare attraverso un buco nero apparso misteriosamente vicino a Saturno verso una serie di pianeti potenzialmente abitabili…
Il film ha ricevuto recensioni generalmente positive dalla critica e ha incassato oltre 677 milioni di dollari in tutto il mondo. Così è diventato il decimo film con il maggior incasso del 2014.
È stato elogiato dagli astronomi per la sua accuratezza scientifica e la rappresentazione dell'astrofisica teorica.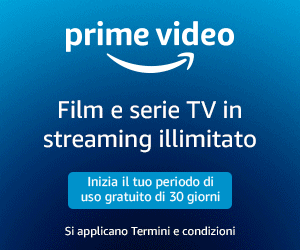 Netflix News Serie TV Film Amine
Apple Android Tecnologia Prime Video Offerte Disney+
Seguici su Facebook Twitter Pinterest
Seguici su Telegram: Netflix, Offerte Amazon Prime, Prime Video