My Hero Academia: The Movie – World Heroes' Mission è il film anime del 2021 che arriva in esclusiva streaming su Amazon Prime Video.
Il film animato giapponese del 2021 si basa su una storia originale a partire dalla serie manga My Hero Academia. Prodotto da Bones e distribuito da Toho si tratta del terzo film del franchise ed è diretto da Kenji Nagasaki da una sceneggiatura scritta da Yōsuke Kuroda ed è interpretato da Daiki Yamashita ,Nobuhiko Okamoto e Yuki Kaji come parte di un cast corale.
Nel film, ambientato durante l'arco narrativo del manga di Endeavour Agency, Izuku Midoriya e i suoi compagni di classe si uniscono ai Pro-Heroes in tutto il mondo per una missione per fermare un piano terroristico che porrà fine all'umanità.
La serie My Hero Academia ha debuttato nel 2014. La serie parla della storia del ragazzo Izuku Midoriya. Da lì sono iniziate le avventure e il viaggio di Izuko per diventare il più grande eroe di tutti i tempi. Oltre al manga, sono seguiti un anime e persino un manga spin-off. Finora erano stati rilasciati due film e World Heroes' Mission costituisce il terzo film.
La trama del film My Hero Academia: The Movie – World Heroes' Mission
Durante il loro tirocinio presso l'agenzia dell'eroe professionista Endeavour, Deku e il suo nuovo amico Rody si ritrovano ricercati in tutta la nazione per un crimine che non hanno commesso. Riusciranno Deku e i suoi amici a fermare i piani globali di Humarize di eliminare tutti i Quirk?
In questo nuovo film vediamo una città devastata dal rilascio di gas velenoso che sta facendo perdere il controllo alle capacità delle persone. Dietro ci sono terroristi che vogliono distruggere tutte le persone con specialità innate – in tutto il mondo!
Gli eroi si sono divisi in tutto il mondo per catturare il leader. Deku, Bakugo e Shoto fanno parte del team Endeavour che si reca nel paese europeo di Otheon. Sfortunatamente, salvare il mondo non è così facile, specialmente quando devi fuggire improvvisamente dalla polizia di Otheon!
My Hero Academia: The Movie – World Heroes' Mission è disponibile in streaming su Prime Video
Il film My Hero Academia: The Movie – World Heroes' Mission arriva disponibile in streaming sulla piattaforma di Amazon Prime Video a partire dal 26 giugno 2022. Il film ha durata di 1h e 44 minuti.
La premessa del film promette uno scenario oscuro e gli eventi si susseguono velocemente. Il nuovo capitolo offre ai fans della serie quello che si aspettano.
Il film ottiene delle buone recensioni anche se lievemente inferiori rispetto al secondo film. Come i due film precedenti cerca di brillare ma forse l'opportunità che offre la storia, che ha un grande potenziale, non viene del tutto sfruttata.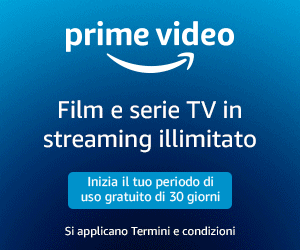 Netflix        News        Serie TV        Film        Amine        
Apple        Android        Tecnologia        Prime Video        Offerte        Disney+
Seguici su Facebook      Twitter      Pinterest
Seguici su Telegram: Netflix, Offerte Amazon Prime, Prime Video