La stagione 2 della serie esclusiva The Ferragnez è in streaming solo su Amazon Prime Video. Continua così il racconto della famiglia più social d'Italia con Chiara Ferragni e Fedez.
Nella seconda attesa stagione della serie seguiremo i Ferragnez nelle situazioni più inedite: dal racconto toccante di Fedez che affronta il percorso per vincere la malattia, alla full immersion nella vita professionale di Chiara.
Con il supporto dello psicoterapeuta conosceremo ciò che unisce la coppia, condivideremo i momenti difficili e gli attimi più teneri con Leo e Vitto.
Prime Video aveva annunciato già da tempo il ritorno dello spettacolo senza sceneggiatura originale italiano The Ferragnez – The Series, che offre al pubblico uno sguardo sulla vita professionale e privata dell'imprenditrice digitale e icona della moda Chiara Ferragni e del versatile artista Fedez, insieme al loro primogenito Leone e nuova figlia Vittoria.
La seconda stagione di The Ferragnez – The Series, prodotta da Banijay Italia per Amazon Studios, è stata lanciata in esclusiva su Prime Video in più di 240 paesi e territori in tutto il mondo nel 2023.
La serie documentario reality The Ferragnez stagione 2 è ora disponibile in streaming su Amazon Prime Video
The Ferragnez stagione 2 è una serie documentario reality del 2023 disponibile in streaming su Amazon Prime Video a partire dal 18 maggio 2023. La serie si compone 7 episodi, i primi 4 hanno debuttato il 18 maggio mentre gli ultimi 3 saranno aggiunti il 25 maggio.
Guarda il trailer della serie The Ferragnez stagione 2 in streaming ita su Amazon Prime Video
Gli episodi della stagione 2 di The Ferragnez
S 2 E 1 – Back Again
La serenità della famiglia Ferragnez viene bruscamente interrotta da una notizia che sconvolgerà le loro vite. Chiara e Fedez, più uniti che mai, si ritrovano ad affrontare mano nella mano un imminente intervento chirurgico.
S 2 E 2 – …And the city
Donatella Versace invita Fedez e Chiara a presenziare ad uno degli eventi più glamour di sempre: il Met Gala. A New York, Chiara propone a Fedez anche di affrontare un'esperienza unica: stare sospesi su uno dei grattacieli più alti della Grande Mela.
S 2 E 3 – Then comes the sun
Fedez, a gran sorpresa, tiene una conferenza stampa in cui annuncia un concerto benefico in Piazza Duomo a Milano. Una gita nella sua città natale, invece, riporta Chiara indietro nel tempo. Nel frattempo la coppia si incontra e si riscopre in un'appassionante lezione di tango…
S 2 E 4 – Familyz
La famiglia si concede un weekend fuori porta in una location immersa nella natura lontano da tutti e tutto. Chiara vola in Spagna per partecipare ad un evento della Maison Dior mentre Fedez si prepara alla sua rinascita: tornare su un palco.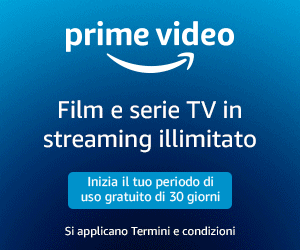 Netflix        News        Serie TV        Film        Amine        
Apple        Android        Tecnologia        Prime Video        Offerte        Disney+
Seguici su Facebook      Twitter      Pinterest
Seguici su Telegram: Netflix, Offerte Amazon Prime, Prime Video