The Grand Tour: Una sbandata controllata arriva ora in streaming su Amazon Prime Video: l'episodio speciale della stagione 5 è un allegro caos da blokey da Clarkson, Hammond e May.
L'episodio speciale è un tributo alla guida di rally nordica.
Nel primo viaggio post-pandemia, Jeremy, Richard e James si dirigono verso le distese ghiacciate del Circolo Polare.
Sulle loro macchine da rally preferite, intraprendono un'avventura catastrofica che li porta in basi sottomarine della Guerra Fredda, su circuiti su laghi ghiacciati, schianti e caos su piste da sci mentre trainano le loro case dalla costa della Norvegia fino al confine russo.
The Grand Tour – stagione 5 – Una sbandata controllata in streaming su Amazon Prime Video
Una sbandata controllata è il nuovo episodio speciale che fa parte della stagione 5 di The Grand Tour. L'episodio arriva in streaming il 16 settembre 2022.
La serie The Grand Tour ha terminato le stagioni regolari su Prime Video diversi anni fa e ora ritornano per casuali eventi una tantum negli angoli più remoti del mondo.
Amazon ha, in altre parole, smussato la formula Top Gear, eliminando la maggior parte delle auto e concentrandosi sui pezzi che tutti amavano: le sontuose funzionalità di viaggio in cui i presentatori rimangono bloccati nel fango e hanno interazioni divertenti con la gente del posto.
In questo episodio ci spostiamo in Scandinavia.
Cosa aspettarsi da The Grand Tour Una sbandata controllata?
Questa volta, per The Grand Tour: A Scandi Flick (Una sbandata controllata), si parte per la Scandinavia per un film che funge anche da tributo alla guida di rally nordica.
Lo "Scandi flick" è un metodo per girare in curva che prevede il sovrasterzo in una svolta riducendo la velocità.
Il nostro divertimento inizia in Norvegia, dove Clarkson, James May e Richard Hammond mettono in mostra le loro autentiche auto da rally — May ha una Mitsubishi Lancer Evolution, Hammond una Subaru Impreza ecc — e poi rimpicciolire un tunnel.
Questo si rivela sorprendentemente insidioso: la Mitsubishi di May perde temporaneamente il controllo e si ferma. È in ospedale mentre Clarkson e Hammond – il quale fa notare che, di solito, è lui a cadere – si scontrano su un circuito inciso su un lago ghiacciato.
May ripara il suo Lancer e presto si dirige verso il confine svedese alla tiepida ricerca dei suoi compatrioti. E, come è tradizione Clarkson, non è né intelligente né particolarmente illuminante in materia di automobili.
Una sbandata controllata è un altro episodio da vedere per chi ha già avuto modo di apprezzare l'ironia del trio di The Grand Tour.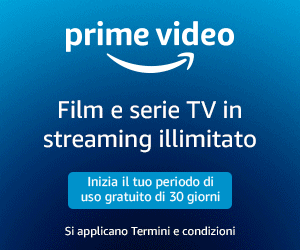 Netflix        News        Serie TV        Film        Amine        
Apple        Android        Tecnologia        Prime Video        Offerte        Disney+
Seguici su Facebook      Twitter      Pinterest
Seguici su Telegram: Netflix, Offerte Amazon Prime, Prime Video