The Kids in the Hall è un'iconica serie di sketch comici da vedere, che arriva in streaming su Amazon Prime Video. Amazon dà il benvenuto al ritorno dell'iconica serie canadese di sketch comici!
The Kids in the Hall sono una compagnia canadese di sketch comici formata nel 1984, composta dai comici Dave Foley , Bruce McCulloch , Kevin McDonald , Mark McKinney e Scott Thompson. Il loro programma televisivo è andato in onda dal 1989 al 1995 su CBC in Canada e CBS , HBO e Comedy Central negli Stati Uniti.
Questo che è stato appena lanciato su Amazon è un revival di otto episodi.
Chi sono i The Kids in the Hall?
Il loro nome derivava dal comico televisivo degli anni '50 Sid Caesar , che, se una battuta non fosse andata a buon fine, o suonata peggio del previsto, l'avrebbe attribuita ai "ragazzi in sala", riferendosi a un gruppo di giovani scrittori in giro per lo studi
Si tratta di un'eccitante nuova stagione che annuncia un nuovo gruppo di personaggi stravagantie e di classici beniamini del pubblico, con sketch che fanno parte di un cocktail satirico, intriso della commedia tagliente e impavida di cui i Kids sono sinonimo.
The Kids in the Hall la prima stagione su Amazon Prime Video
La prima stagione di The Kids in the Hall arriva disponibile in streaming su Prime Video a partire dal 13 maggio 2022. La stagione si compone di 8 episodi da 25 minuti circa.
L'idea di una serie Kids in the Hall è confezionata con intensa trepidazione . E se quell'assurdismo nervoso e surreale fosse smussato da una simpatia nostalgica?
È possibile guardare indietro nella celebrazione, senza sminuire il passato o, peggio, compiacersi di se stessi?
Amazon Prime Video non prepara nemmeno questo per il successo: la serie revival è accompagnata da un documentario agiografico in due parti sul gruppo ( The Kids in the Hall: Comedy Punks – non disponibile in Italia ). Il documentario è completo e pieno di un buon contesto per l'influenza sovversiva.
La serie, nonostante l'operazione nostalgia, sorprende per le battute anche autoironiche, su questi ragazzi, che ormai non sono più tali (avendo raggiunto i 60 anni). Quello che possiamo dirvi sulla serie è che i ragazzi sono tornati..
Su Prime Video sono disponibili in streaming anche tutte le passate stagioni che eventualmente si possono recuperare. Tuttavia questi contenuti sono disponibili solo in inglese con sottotitoli in inglese.
La serie comica di sketch unica e bizzarra incita all'umorismo attraverso una lente intellettuale di creatività comica e schizzi guidati dai personaggi. La serie dà vita alla collisione tra arte e commedia con una misteriosa somiglianza con le realtà attuali e la condizione umana.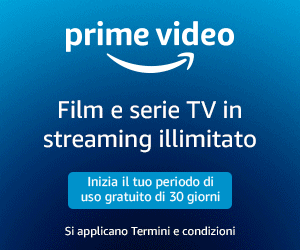 Netflix        News        Serie TV        Film        Amine        
Apple        Android        Tecnologia        Prime Video        Offerte        Disney+
Seguici su Facebook      Twitter      Pinterest
Seguici su Telegram: Netflix, Offerte Amazon Prime, Prime Video