The Voyeurs è un thriller erotico che arriva in esclusiva su Amazon Prime Video con protagonisti Sydney Sweeney e Justice Smith nei panni di una giovane coppia che spia e diventa ossessionata dalle vite amorose dei loro vicini dall'altra parte della strada ( Natasha Liu Bordizzo e Ben Hardy ).
Una giovane coppia (Sydney Sweeney e Justice Smith) si ritrova a interessarsi alla vita sessuale dei vicini al di là della strada (Ben Hardy e Natasha Liu Bordizzo). Ciò che inizia come un'innocente curiosità si trasforma in un'insana ossessione quando scoprono che un vicino tradisce. La tentazione e il desiderio fanno sì che le loro vite si intreccino e questo porta a delle conseguenze mortali.
Il film è scritto e diretto da Michael Mohan. Si tratta di un film girato e ambientato a Montreal in Canada. Greg Gilreath e Adam Hendricks sono i produttori sotto il loro banner Divide/Conquer.
La trama del film The Voyeurs
Entrando in loft spazioso e lussuoso, l'optometrista Pippa ( Sydney Sweeney ) e il fidanzato Thomas ( Justice Smith) sono una coppia innamorata la cui relazione ottiene una spinta in più quando spiano il bel fotografo Seb (Ben Hardy) e l'affascinante modella Julia (Natasha Liu Bordizzo).
I due li osservano mentre vivono un momento in intimità nell'appartamento di fronte. Tra i due però manca quella scintilla, e le conseguenze per la loro relazione sono in qualche modo prevedibili.
Quello che però inizia come un diversivo eccitante si trasforma in una situazione sempre più dirompente, in un thriller che offre qualche sorpresa.
Il film The Voyeurs è disponibile in streaming su Amaozn Prime Video
The Voyeurs è un film del 2021 della durata di 1h e 56 minuti che arriva disponibile in streaming su Amazon Prime Video a partire dal 10 settembre 2021.
I critici cinematografici hanno riservato a The Voyeurs un'accoglienza mista, paragonandolo sfavorevolmente ai suoi antenati nel genere thriller voyeuristico, come La finestra sul cortile di Hitchcock (1954) e Body Double (1984) di De Palma.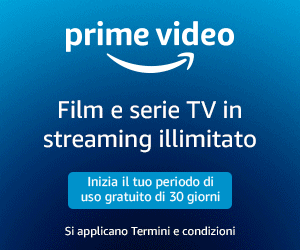 Netflix        News        Serie TV        Film        Amine        
Apple        Android        Tecnologia        Prime Video        Offerte        Disney+
Seguici su Facebook      Twitter      Pinterest
Seguici su Telegram: Netflix, Offerte Amazon Prime, Prime Video