The Walking Dead: World Beyond stagione 2 è in streaming su Amazon Prime Video in contemporanea con la prima visione negli Stati Uniti sul canale AMC.
La stagione 2 di The Walking Dead: World Beyond è come già annunciato la stagione finale della serie di AMC.
La serie World Beyond è una serie complementare a The Walking Dead e si basa sull'omonima serie di fumetti di Robert Kirkman, Tony Moore e Charlie Adlard.
È stata prodotta da Kirkman, David Alpert, Gale Anne Hurd, Brian Bockrath, Scott Gimple e Matt Negrete, con Negrete come showrunner per la sua seconda e ultima stagione.
La serie, ambientata in Nebraska dieci anni dopo l'apocalisse zombie, vede protagonisti quattro adolescenti e si concentra sulla "prima generazione che raggiunge la maggiore età nell'apocalisse come la conosciamo.
Alcuni diventeranno eroi. Alcuni diventeranno cattivi. Nel alla fine, tutti loro saranno cambiati per sempre. Cresciuti e cementati nelle loro identità, buone e cattive".
The Walking Dead: World Beyond stagione 2 è disponibile in streaming su Amazon Prime Video
La stagione 2 di The Walking Dead: World Beyond arriva disponibile in streaming su Amazon Prime Video a partire dal 3 ottobre 2021 con un episodio a settimana. La seconda stagione è stata presentata in anteprima il 3 ottobre 2021 e si concluderà il 5 dicembre 2021, per un totale di 10 episodi.
La stagione 2 di the Walking Dead: World Beyond
La seconda stagione di The Walking Dead: World Beyond conclude l'epica storia di Iris, Hope, Elton e Silas. Mentre affrontano il misterioso esercito della Civica Repubblica, gli obiettivi cambiano, i legami nascono e si sciolgono e l'innocenza viene sia persa sia ritrovata.
Dopo aver raggiunto la loro destinazione, Hope ( Alexa Mansour ) è stata separata dal gruppo e presa in custodia dal CRM. Ora, Iris ( Aliyah Royale ) e le sue compagne devono lavorare insieme per liberare sua sorella e porre fine a qualunque cosa Elizabeth Kublek ( Julia Ormond ) e il CRM stiano pianificando.
Gli episodi di The Walking Dead: World Beyond 2
1. Conseguenze
L'impegno di Hope per un futuro è messo alla prova, mettendo a rischio un possibile ricongiungimento. Iris e Felix incontrano un nuovo gruppo. Vengono alla luce sconcertanti rivelazioni.
2. Posizione di vantaggio
Alcuni membri del gruppo mettono in atto un piano per coprire le loro tracce; altri provano ad ambientarsi nel loro nuovo contesto.
3. Ferite d'uscita
Un tentato imbroglio porta ad una situazione precaria. Mentre Huck prova a riadattarsi alla sua nuova vita, le viene dato un ultimatum.
La serie ha finora ricevuto recensioni contrastanti dalla critica. Una delle critiche maggiori riguarda la difficoltà nel distinguere la serie all'interno dell'universo del franchise.
Tuttavia ci sono state anche delle recesioni positive che pur considerando il fatto che la serie non è perfetta, c'è la volontà di reinventare e di sondare sinceramente un angolo dell'universo precedentemente incontaminato. World Beyond vale la pena di essere vista dai fans della precedente serie.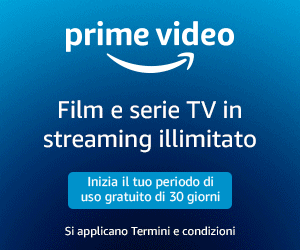 Netflix        News        Serie TV        Film        Amine        
Apple        Android        Tecnologia        Prime Video        Offerte        Disney+
Seguici su Facebook      Twitter      Pinterest
Seguici su Telegram: Netflix, Offerte Amazon Prime, Prime Video