Train to Busan è un film horror, uno zombie movie, da vedere in streaming su Amazon Prime Video per tutti gli appassionati del genere.
Il film coreano Train to Busan è un horror d'azione del 2016 diretto da Yeon Sang-ho e interpretato da Gong Yoo, Jung Yu-mi , Ma Dong-seok , Kim Su-an , Choi Woo-shik , Ahn So-hee e Kim Eui-sung.
Il film si svolge principalmente su un treno ad alta velocità da Seoul aBusan come un'apocalisse di zombi scoppia improvvisamente nel paese e minaccia la sicurezza dei passeggeri.
Una misteriosa epidemia. Una nazione in ginocchio. Un virus non identificato si abbatte sulla Corea del Sud e il Governo dichiara lo stato di emergenza. I passeggeri di un treno diretto a Busan, l'unica città ancora incontaminata, dovranno combattere duramente per la propria sopravvivenza. 453 chilometri da percorrere. 453 chilometri per non morire.
La trama del film Train to Busan
Il gestore del fondo Seok-woo è un cinico maniaco del lavoro e padre divorziato di sua figlia Su-an, che vuole trascorrere il suo compleanno con sua madre a Busan. Seok-woo vede un video di Su-an che tenta di cantare " Aloha ʻOe " al suo recital di canto e soccombe alla paura del palcoscenico a causa della sua assenza.
Sopraffatto dal senso di colpa, decide di esaudire il desiderio di compleanno di Su-an. Il giorno successivo salgono a bordo del KTX 101 alla stazione di Seoul , diretti a Busan. Altri passeggeri includono Sang-hwa e sua moglie incinta Seong-kyeong, COOYon-suk, una squadra di baseball del liceo che include il giocatore Yong-guk e la sua fidanzata cheerleader Jin-hee, le sorelle anziane In-gil e Jong-gil, l'assistente del treno Ki-chul e un senzatetto clandestino traumatizzato nascosto nel bagno.
Mentre il treno parte, una giovane donna malata corre sul treno senza essere notata. Si trasforma in uno zombie e attacca un addetto al treno, che si trasforma anche lui. L'infezione inizia a diffondersi rapidamente..
Il film Train to Busan è ora disponibile in streaming su Amazon Prime Video
Train to Busan è un film horror del 2015 della durata di 1h e 57 minuti disponibile in streaming su Amazon Prime Video a partire dal maggio 2023.
Guarda il trailer del film Train to Busan in streaming ita su Amazon Prime Video
Il film è stato presentato in anteprima nella sezione Midnight Screenings del Festival di Cannes 2016 il 13 maggio. Il 7 agosto, il film ha stabilito un record come primo film coreano del 2016 a battere il record di spettatori di oltre 10 milioni di spettatori.
Il film ha lanciato con successo una serie di film titolari, con un film animato prequel nel 2016 e un sequel autonomo nel 2020. Sono in fase di sviluppo anche un'altra puntata e un adattamento prodotto in America.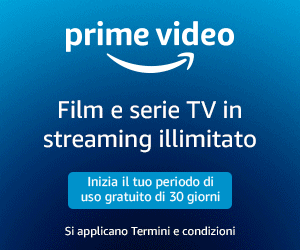 Netflix        News        Serie TV        Film        Amine        
Apple        Android        Tecnologia        Prime Video        Offerte        Disney+
Seguici su Facebook      Twitter      Pinterest
Seguici su Telegram: Netflix, Offerte Amazon Prime, Prime Video