Il concerto di Ed Sheeran: The Equals Live Experience arriva disponibile in streaming su Amazon Prime Video.
Questo film evento ci permetterà di sintonizzarci mentre il fenomeno pop britannico Ed Sheeran esegue una serie di brani nuovi di zecca dal suo ultimo album "=."
Questa esperienza concertistica ti condurrà in un viaggio audiovisivo trasformativo con il cantautore, esplorando i temi della metamorfosi e del rinnovamento che definiscono il suo quinto album in studio.
Ed Sheeran: The Equals Live Experience è disponibile in streaming su Amazon Prime Video
Il film concerto di Ed Sheeran del 2021 dura 1h e 10 minuti e arriva disponibile in streaming a partire dal 6 dicembre 2021.
Ed Sheeran ha portato la "Equals Live Experience" al mondo tramite un livestream direttamente dall'Alexandra Palace di Londra questo sabato 5 dicembre alle 15:00 ET.
È stato un set intimo di 90 minuti che gli spettatori hanno potuto guardare tramite l'app di Amazon Music, Twitch o i canali Prime Video.
"Non vedo l'ora di celebrare l'uscita di = con questo concerto speciale e con i miei fan da tutto il mondo", ha detto l'affabile Sheeran in una nota.
"Anch'io suonerò per la prima volta un carico di nuove tracce questa notte! Ci vediamo il 5 dicembre."
Amazon Music ha promesso una "performance visiva sbalorditiva" in cui Sheeran dovrebbe suonare canzoni dal suo primo catalogo in una scaletta cronologica che porta a =.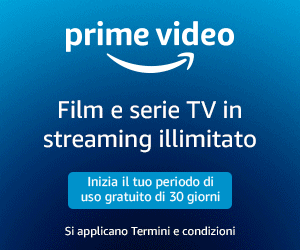 Netflix        News        Serie TV        Film        Amine        
Apple        Android        Tecnologia        Prime Video        Offerte        Disney+
Seguici su Facebook      Twitter      Pinterest
Seguici su Telegram: Netflix, Offerte Amazon Prime, Prime Video