Sulle ali dell'onore è un film d'azione e di guerra del 2022 ora in streaming su Amazon Prime Video. Il film biografico si basa sul libro del 2015 Devotion: An Epic Story of Heroism, Friendship, and Sacrifice di Adam Makos.
Il libro raccontava una storia di cameratismo tra gli ufficiali di marina Jesse Brown e Tom Hudner durante la guerra di Corea. Il film è diretto da JD Dillard e scritto da Jake Crane e Jonathan Stewart. Nel cast troviamo invece Jonathan Majors nei panni di Brown e Glen Powell nei panni di Hudner, insieme a Christina Jackson, Daren Kagasoff , Joe Jonas, Nick Hargrove, Spencer Neville e Thomas Sadoski nei ruoli secondari.
Due piloti di caccia d'elíte degli Stati Uniti, rischiano la vita durante la guerra di Corea e i loro eroici sacrifici alla fine li renderanno i più celebri piloti della Marina.
La trama del film Sulle ali dell'onore
Sulle ali dell'onore è un film del 2022 che racconta la vera storia di Jesse Brown e Tom Hudner, due piloti navali che hanno formato un improbabile legame durante la guerra di Corea.
Brown è stato il primo aviatore nero della Marina degli Stati Uniti e Hudner era un ufficiale bianco di origini privilegiate. Nonostante le loro differenze, sono diventati amici intimi e gregari nel Fighter Squadron 32.
Il film descrive gli eventi strazianti del dicembre 1950, quando l'aereo di Brown fu colpito dal fuoco nemico e si schiantò in una remota valle di montagna. Hudner, vedendo il suo amico intrappolato nella cabina di pilotaggio, fece atterrare deliberatamente il suo aereo nelle vicinanze e cercò di salvarlo.
Ha rischiato la vita nel freddo gelido e sotto il fuoco nemico, ma non è riuscito a liberare Brown prima del tramonto. Brown è morto per le ferite riportate e a Hudner è stato ordinato di lasciarlo indietro. In seguito ha ricevuto la Medaglia d'Onore per il suo coraggio.
Il film Sulle ali dell'onore è un'esclusiva Amazon Prime Video
Sulle ali dell'onore è un film del 2022 della durata di 2h e 12 minuti disponibile in esclusiva streaming su Amazon Prime Video.
Sulle ali dell'onore (Devotion) è un film che celebra l'eroismo e l'umanità di due uomini che hanno sfidato le barriere razziali e gli ordini militari per salvarsi a vicenda. Fa anche luce su una guerra dimenticata che ha causato milioni di vittime e ha plasmato il corso della storia.
Il lungometraggio vuole onorare l'eredità di Jesse Brown, che ha infranto le barriere come pilota nero e ha ispirato generazioni di aviatori.
Il film ha ricevuto recensioni positive da critica e pubblico, ma al botteghino è stato invece un mega flop. Al cinema ha incassato solo 21,8 milioni di dollari in tutto il mondo contro un budget di 90 milioni di dollari. Ora su Prime Video ha raggiunto il primo posto in classifica.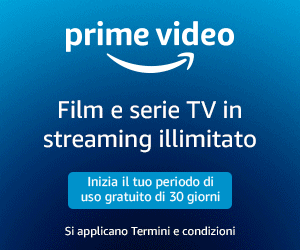 Netflix        News        Serie TV        Film        Amine        
Apple        Android        Tecnologia        Prime Video        Offerte        Disney+
Seguici su Facebook      Twitter      Pinterest
Seguici su Telegram: Netflix, Offerte Amazon Prime, Prime Video