Su Apple TV+ è disponibile in esclusiva streaming il documentario The World vs. Boris Becker. Il film è diretto da Alex Gibney, famoso documentarista premiato con un Oscar.
Il film racconta la vita e la carriera di Boris Becker, il campione di tennis tedesco che ha vinto tre Wimbledon, tra cui il primo a 17 anni. Il docufilm mostra anche i problemi personali e legali di Becker, che lo hanno portato alla bancarotta e alla prigione.
Il documentario si divide in due parti.
La prima ripercorre l'ascesa di Becker nel mondo del tennis, le sue sfide con i rivali come John McEnroe e Bjorn Borg, il suo rapporto con il padre e con le donne.
La seconda parte si concentra sul declino di Becker, le sue difficoltà economiche, i suoi scandali amorosi, il suo ruolo di coach di Novak Djokovic e il suo processo per aver nascosto beni e prestiti per evitare di pagare i debiti.
Il film documentario The World vs Boris Becker è in streaming su Apple Tv+
The World vs Boris Becker è disponibile in streaming su Apple Tv+. Il film si basa su un accesso esclusivo a Boris Becker per tre anni, fino alla sua condanna a due anni e mezzo di prigione nel Regno Unito nell'aprile 2022.
Il film include anche interviste a Novak Djokovic, Ion Tiriac, John McEnroe e Bjorn Borg. Altri personaggi che appaiono nel film sono Michael Stich, Brad Gilbert e Nick Bollettieri.
The World vs Boris Becker è un ritratto approfondito e onesto di Boris Becker, che non nasconde le sue luci e le sue ombre.
Il documentario mostra come Becker sia stato un fenomeno sportivo, ma anche una vittima della fama e dei media. Il docufilm esplora i temi del successo, della felicità e della responsabilità.
The World vs. Boris Becker è un documentario interessante e coinvolgente, che piacerà agli appassionati di tennis e non solo.
Si tratta di un film che omaggia uno dei più grandi tennisti della storia, ma che non ne idealizza la figura. Il film ha ricevuto buone recensioni dalla critica e dal pubblico.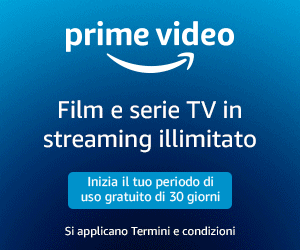 Netflix        News        Serie TV        Film        Amine        
Apple        Android        Tecnologia        Prime Video        Offerte        Disney+
Seguici su Facebook      Twitter      Pinterest
Seguici su Telegram: Netflix, Offerte Amazon Prime, Prime Video